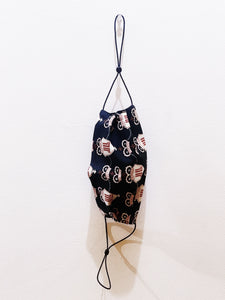 "not today" (70's Lanvin)
Regular price $55.00 Sale
Up-cycled, repurposed, vintage dopeness.
The oldest of the illustrious French fashion houses, dating back to 1889, Jeanne Lanvin began her journey with a small charming hat shop in the heart of Paris. Within the following years she meticulously grew her craft and created the formula for what is known as "luxury" within the fashion world today. A true pioneer of her era, she continually expanded her namesake from hats, to children's wear, womenswear, lingerie, evening wear, menswear, and ultimately fragrance. Many designers followed in her footsteps, continuing her legacy of Parisien luxury at its highest form. I have had the pleasure of working for my favorite of all of them... and of present time; the humble while brilliant Alber Elbaz. 

Light-weight lined mask with form-fitting nosepiece and adjustable elasticated ear loops for those quick necessary trips out in public. 
For each mask purchased, one is donated to those in need in local shelters.
Made in New York City. Hand wash and air dry. Roll, don't fold, to preserve nose bridge.
One-size fits most.
NOT MEDICAL GRADE